Mutrics
Mutrics X Transformers



Mutrics X is a smart sunglass which uses near field surround sound system and virtual bass enhanced algorithm.

It consists of a built-in speaker which projects the music directly into your ears and eliminates low sound quality etc.

It has a Bluetooth 5.0 which provides you with a range of about 20 meters and it gets fit to a wide variety of faces.

The Mutrics is water resistant and it uses polarized UV400 protection lenses and you can control everything using a button.
#Mutrics X Transformers Only for Chinese Marketplace

Near-field surround sound,

One-click control,

6-hour playtime,

Hands-free calls,

Google+Siri assistant,

Track activity,

Replaceable lens.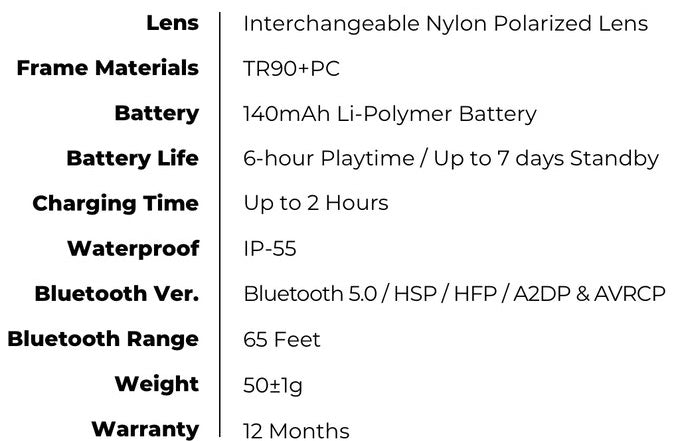 Mutrics X (Black Color)
Sunglass Lenses (Random Color)
Quick Charging Cable
Glasses Case
Guide Card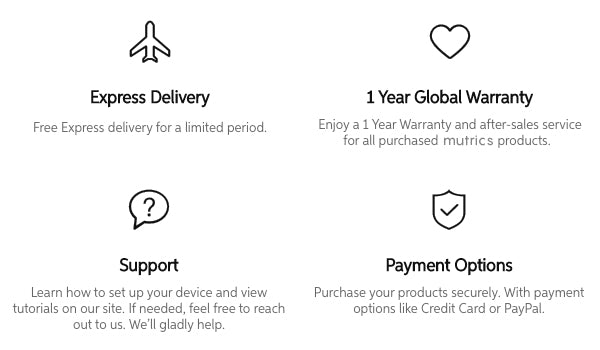 This is a gift for you. 

Enjoy it.
Just got my mutrics sunglasses :D
It does what it should, confortable sunglasses, nice surrounding sound, lets you keep aware and perfect to take calls. It's definitely not a hifi system nor has a booming bass like an over the ear or in ear, but expecting that is ridiculous, compared to the same price oackey or ray bans, definitely worth it, more than a shade. Expect more functionalities in the future.
Great sunglasses, fair sound, stability, convenient
The new lenses take the place of my reading/computer glasses, and I can listen to music at my desk all day without anyway even knowing I have music on!