Free shipping & Free return

Mutrics X is a smart sunglass that uses near field surround sound system and virtual bass enhanced algorithm.

It consists of a built-in speaker that projects the music directly into your ears and eliminates low sound quality etc.

It has Bluetooth 5.0 which provides you with a range of about 20 meters and it gets fit to a wide variety of faces.

The Mutrics is water-resistant and it uses polarized UV400 protection lenses and you can control everything using a button.

SKU: M82801-001 

Near-field surround sound,

One-click control,

6-hour playtime,

Hands-free calls,

Google+Siri assistant,

Track activity,

Replaceable lens.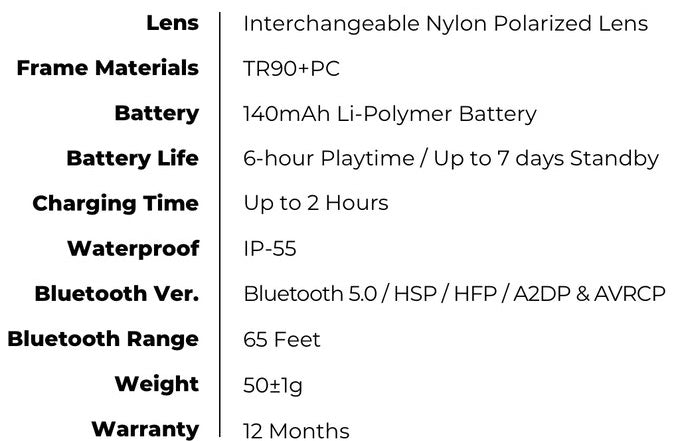 Mutrics X (Black Color)
Sunglass Lenses (Classic Black Color)
Quick Charging Cable
Glasses Case
Guide Card
This is a gift for you. 

Enjoy it.
Wife is loving the shades
Well worth the cash. My wife loves driving down the road and walking with them
I use these glasses for when I run. I really like them. I have an Apple Watch and phone. I have not figured out how to connect them just to my Apple Watch. I have to take my phone with me as well. I tried to get more info about this directly from Mutrics but there is no way to communicate with them. I do like the quality of them but it might have been a better choice to pay more for the Bose so that I can communicate with an American company. Also, I couldn't track them because the tracking website was in Chinese (I think). I don't read or speak Chinese so I had no idea when they were coming. I tried to communicate by email, but there was no response. So here's the thing- they have decent sound and volume, they are 100.00 less than Bose, so for what I use them for which is running, I like them. They need to step up their communication with the customer.
needs refinement
build quality is nice, aesthetically pleasing, comfortable but sound quality is terrible and lenses are garbage. Not worth the money.
Great!
Just received it, really great customer service. The product is totally cool too!
better than any competitor
great quality simple design and log battery life. better than all the other competition, 8 hours battery life and durable feeling. not much base in sound quality and the frames arms are slightly on the bulky side. well worth the money. Great packaging, volume battery life and call quality.